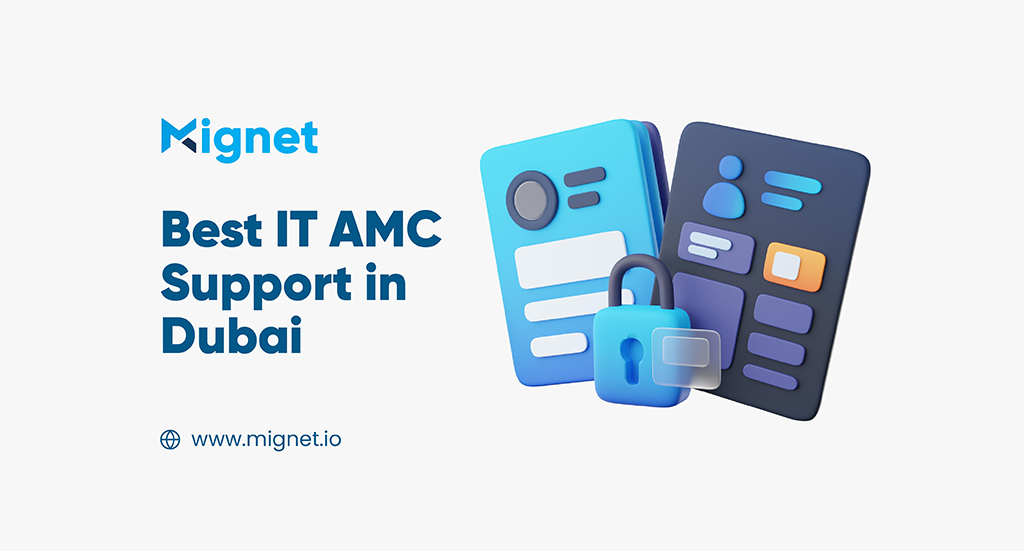 The best IT AMC Support in Dubai, UAE
Annual maintenance contract is an agreement between IT companies or firms with a service provider for providing security for all IT services and computer equipment's like printer, desktop etc
AMC ensures that your laptops, desktop, smartphones, and other devices are working effectively. It is a contract signed with the maintenance and repairing service provider to maintain a regular check on your office equipment like laptops, desktops, etc.
The Role of IT AMC in Any Business:
IT AMC Services Dubai, Prevents Unexpected Downtime
When you sign up for AMC, the provider sends their technicians to check on your property regularly; and make sure that everything works smoothly. They also keep an eye on any new developments in technology and make sure that your property is updated accordingly.
IT AMC Improves Productivity
When you pay for AMC, you will receive better quality services than if you were paying out of pocket every time something went wrong with your office space or equipment. This means that employees will be more productive since they have fewer distractions caused by faulty equipment or poor working conditions.
Control Over IT Expenditure
With our AMC plans, you will be spending less on maintenance than what you would have been spending if you were to hire an individual technician for each job. This helps you avoid unnecessary spending, which helps keep your costs low.
Peace of Mind
You can rest assured knowing that we will take care of everything from updating software, repairing damaged hardware components and replacing them if necessary, fixing broken printers or other office equipment etc. so that there is no need for you to worry about anything related to technology or computers at all!
Keeping Your Software Up
It provides you with better security and functionality, but it also helps with the efficiency of your business operations. Additionally, when software is not updated regularly, there's a greater chance of encountering bugs and errors that could potentially cause severe damage to your business.
If your business has a reliable IT system, it will be more productive as employees will be able to work efficiently with no interruptions caused by technical problems in their computers or network connection. This will save time and money spent on hiring external help when something goes wrong with the computer systems or networks.
Different Services assured in our IT AMC Support in Dubai:
Monitoring
Your IT annual maintenance contract Dubai will include 24/7 monitoring of your system. So that we can identify any problems before they become critical issues.
Software upgrades
Software upgrades are essential for keeping your computer operating at peak performance levels; and our technicians will install these updates automatically during scheduled maintenance sessions.
Hardware replacement
As hardware ages, it tends to break down more frequently and experience performance issues that can cause severe problems. We'll replace older hardware components with newer ones as needed so that you're always running on reliable equipment.
Security assessment
Your annual maintenance contract will include periodic security assessments to identify potential weaknesses in your network's security infrastructure. And make recommendations for how to fix them.
Why is IT Support Crucial for your Business?
Data management:
The storage and management of data are vital to any business. A reliable IT support ensures the management of the business data seamlessly. A comprehensive IT AMC support helps businesses to avoid data loss, virus infection, accidental deletion of files, etc.
IT AMC support from a reliable provider gives access to professional services to keep the IT infrastructure running smoothly. The experts with the IT support company impart training to the staff without charging any additional amount. This training helps employees within the organisation to deal with minor issues instead of always relying on the IT service provider.
High-end solutions:
A reliable IT AMC support provider uses high-end solutions for resolving technical glitches quickly. It allows employees within an organisation to accomplish tasks effectively and save valuable time.
Security:
The IT AMC support provider uses standard virus management methods to protect the data and devices from any potential threats. They create a comprehensive long-term strategy to enforce security from malware attacks, cybersecurity threats, and data losses. They provide a high-security framework for maintaining the data integrity, backup, and data restoration process.
Monitoring:
A reliable IT AMC support provider keeps a check on the network by continuous monitoring and reports generating processes. They implement efficient issue management methods to keep the systems updated and ensure the network is glitch-free.
Tips to Choose the Right Managed Service Provide
This is the first and foremost thing to check before making any business deal. Identify the key gaps, existing inefficiencies and areas of improvement before going for a service provider. Doing this exercise helps you find a perfect match for your IT requirements.
Ensure to have a clear match between your requirements and the MSP offering. A right IT MSP performs technology auditing, helping you assess the current situation, identifies gaps, improvement areas and lays down the path for future.
Market Portfolio and Presence
It's very important to understand your selected MSP's portfolio, market presence, experience with previous clients and clientele. This helps you assess their capabilities, case studies, abilities in line with industry standards, testimonials (if any) and more. Understanding these factors gives you enough confidence in moving ahead with a specific partner.
Technical Expertise and Certifications
Once you understand the market side of your partner, it's time to check their technical (application) expertise, partnerships and additional qualifications that showcase their abilities. This helps you understand their technical side along with their strengths and weaknesses areas.
Supporting and Assistance Abilities
This is the foremost aspect to define an organization's successful journey with an MSP. You never know when a security threat, unexpected downtime, network error, etc., can interrupt your business community. So, all you need is immediate support to keep your business running and offer uninterrupted customer service.
This factor helps you a lot in gaining customer satisfaction, which is key to any business. Post this, you can move on to knowing their approach in offering support services, along with pricing models.
Culture and Working Relation
This is another crucial factor that is key to defining the quality of your new partner. Think of your partner as personnel you are hiring for your in-house functioning. This is very important as you are about to move on for a short/long journey with crucial dependencies and business objectives lying at the core of your partnership.
AMC for IT Services Dubai FAQs
Yes! It's a real 24/7 support line. On a shift basis, our IT helpdesk engineers are ready to answer your calls. In that way, your end users won't have to deal with a sleepy on-call engineer, and you will be able to rest assured knowing someone will pick up the phone when your in-house team can't. The Mignet team will have all your client details on their system and will be ready to offer IT AMC support at any time.
With our industry-leading AMC services, we take permanent corrective action whenever possible. There's more to it than just identifying the problem and fixing it. Your UAE-based business can eliminate IT problems by eliminating repetitive manual tasks. Get in touch with us for a no-obligation chat about our maintenance contract services if you're an SME with 20 to 200 employees and need clear guidance on how and where to find these efficiencies.
Download Our Profile
Get to know more about Mignet Technologies by downloading our profile.