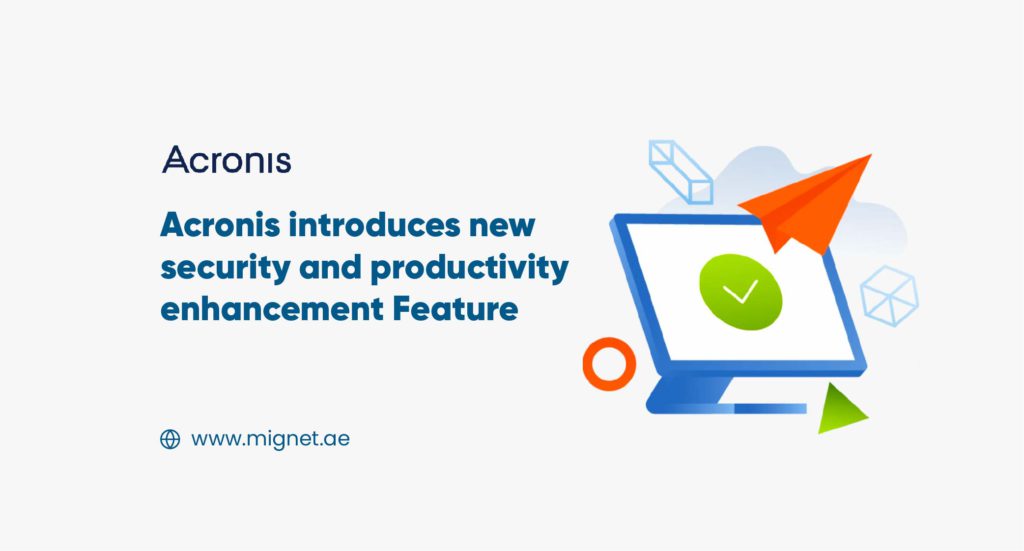 Acronis introduces new security & productivity Feature
Acronis indroduced new security & productivity Feature with Acronis Cyber Infrastructure 5.0, an enhanced version of the company's scale-out, cost-efficient and multi-purpose infrastructure solution designed for cyber protection. This latest release expands on the capabilities Acronis partners are familiar with from Acronis Cyber Infrastructure, while increasing the flexibility, versatility and security of the product – ensuring that it fits more use cases for partners and their clients.
Fitting Acronis Cyber Infrastructure into a modern IT stack
Acronis Cyber Infrastructure converts hardware into an easily-manageable pool of storage resources. The solution provides file, block and object storage, and supports multiple simultaneous use cases — including backup data storage and disaster recovery. Engineered to run on either commodity servers or on dedicated Acronis Cyber Infrastructure appliances, Acronis Cyber Infrastructure is built for IT teams that want a cloud-like experience on-premises and for service providers that want to enable the provisioning of cloud services for their clients. Best of all, Acronis Cyber Infrastructure is available at over 43 data centers around the world and through a number of flexible and scalable licensing options. Combined, these flexible options enable partners to ensure a local presence and compliance for data sovereignty and privacy while also enabling partners to reduce their total cost of ownership (TCO) and maximize the value they see from the resource. Moreover, while Acronis Cyber Infrastructure is optimized for Acronis Cyber Protection Solutions, it can provide storage and protection for any workload.
Download Our Profile
Get to know more about Mignet Technologies by downloading our profile.
What's new in Acronis Cyber Infrastructure 5.0?
Designed to fit your changing business needs, the latest release of Acronis Cyber Infrastructure introduces new capabilities and monitoring enhancements, while improving and optimizing the product's security and manageability. Key highlights from this release include:
Support for third-party identity providers through integration with Active Directory
Meeting strict security requirements has never been more seamless. With a new Active Directory integration, users can granularly authorize secure, dedicated access to the Acronis Cyber Infrastructure platform via one or more third-party identity providers.
Cross-region objects replication
Users can also reduce latency and respond to country-specific compliance requirements by enabling automatic, asynchronous copying of objects across buckets stored in different Acronis Cyber Infrastructure clusters and public cloud providers.
Advanced monitoring of product updates
Users can now be sure they're benefitting from the latest product updates or troubleshoot, if they aren't. Advanced monitoring makes it easy to track the update status of cluster updates.
Advanced monitoring of object storage usage
Managing object storage is now simpler too – users can leverage the newly added metrics for advanced monitoring of object storage, for example S3 bucket size and S3 user-space consumption.