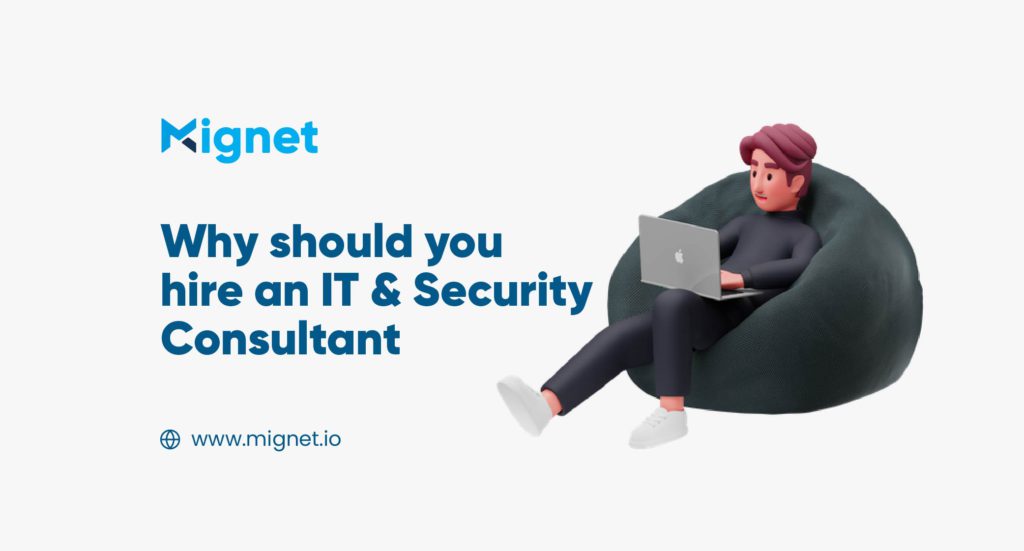 Why should you hire an IT & Security Consultant from Mignet?
A primary focus of Mignet is on providing strategic IT advice to companies for improving their business processes, enhancing their operational efficiency, and ensuring business continuity.
We assess our clients' infrastructure and provide advice on how to enhance it in order to achieve business goals. IT consulting services can also benefit clients who are not familiar with technical solutions.
With the help of an IT consultant, a company can easily adopt the latest technologies and strategies and align them with its business goals and objectives. The right technology enablement and deployment can improve a company's performance, scalability, and competitiveness. As the leading IT company in Dubai, we are specialized in IT infrastructure & Cloud solutions and services. We strive to be more than just a reliable IT consulting partner. Intelligent, integrated, and collaborative solutions help businesses maximize their potential.
What makes Mignet's consultancy service so comprehensive compared to other IT service providers?
After assessing the client's business model and identifying their business needs, Mignet will provide professional advice in terms of identifying the right solution for them. In addition, Mignet will assign an IT service team with extensive expertise in the field to turn their ideas into actions. Further, it's a smart idea to have an outsider look at their company from a fresh perspective. By looking at the client's problem from a different perspective, clients can bring some fresh ideas to your project. IT consulting services will also help clients to focus solely on their business and not worry about the technical part.
Consultancy Services We Offer:
1. IT Strategy Consulting
A key objective is to align IT systems, assets, and processes with the current and future business goals of the business – an assessment of current IT policies, practices, and infrastructure, including IT governance, application complexity, development infrastructure, databases, and data warehouses. Aligning IT resources with business needs, and developing a high-level IT strategy. To attain the desired state, we plan strategic initiatives such as software development, modernization, migration, and re-architecting.
Continuous monitoring and assessment boost IT infrastructure efficiency, security, and compliance. In addition to IT policies and procedures, we assess server infrastructure, network infrastructure, storage infrastructure, cloud services, business applications, network security, software solutions, information security solutions, web design, and unified communications.
We help businesses transform their business model and processes by integrating transformative digital technologies. We offer cloud computing, cybersecurity, multi-component ERP, software services, web development, network services, and unified communications.
4. Management of IT projects and programs
Management of tasks within single or multiple IT projects in order to improve efficiency and quality of work. This consists of developing a project life cycle plan, project budgeting, and scheduling, organizing and managing project participants' communication, and managing and enhancing project performance.
5. Modernization of applications
With Mignet, businesses can enhance the business value of their existing apps. Besides analyzing businesses' cost of ownership and identifying cost reduction opportunities for their applications, we also migrate on-premise applications to the cloud and re-design them to achieve easier scalability and flexibility.
6. IT infrastructure management
Maintaining a stable and flexible IT infrastructure is crucial for every business. We securely manage and maintain our clients' servers, networks, data centers, cloud services, and applications. In addition, our helpdesk quickly resolves issues, incident troubleshooting, root cause analysis, and incident prevention. Auditing the security of your IT infrastructure and patching detected vulnerabilities.
7. Software implementation and management
Mignet helps businesses achieve the highest return on investment and lowest cost of ownership by planning and implementing business software. Here are the steps we take in our process:
Analyzing software functionality against business needs.
Assigning a dedicated team for implementation and testing.
Providing end users with software adoption training.
Software support and maintenance.
Ensure business apps are up-to-date and functioning properly.
Monitor the performance of software.
Maintaining the security of apps by auditing and patching them.
Download Our Profile
Get to know more about Mignet Technologies by downloading our profile.