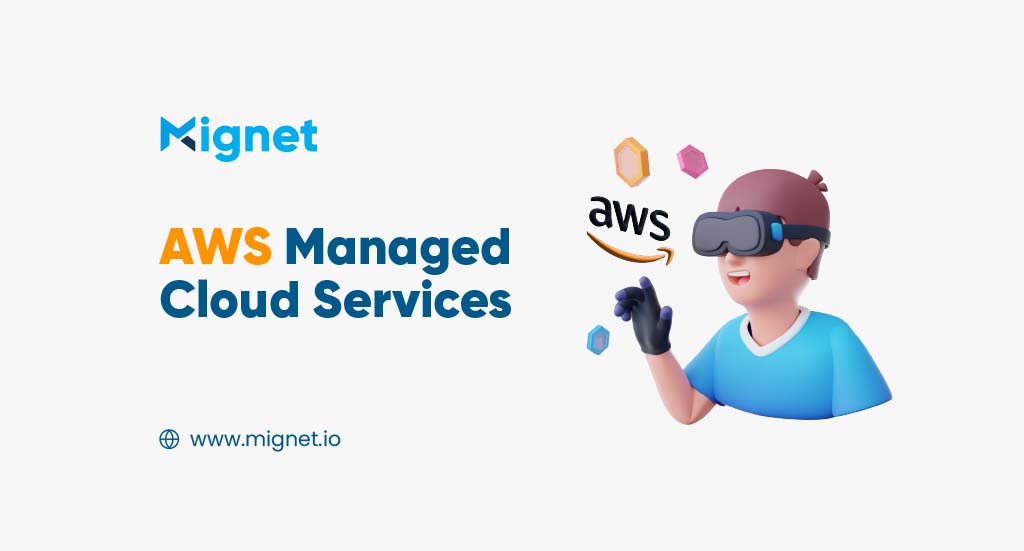 AWS Managed Cloud Services in Dubai
NO NEED TO WORRY ABOUT CLOUD SERVICES FOCUS ON YOUR BUSINESS WE WILL MANAGE YOUR AWS CLOUD CONSULTING OPERATIONS 
As an AWS Cloud Infrastructure expert, Mignet provides Proactive monitoring, automation, and management for our customers. We do what our clients wants to do. Mignet is the complete solution for AWS Cloud consulting.  
Mignet's AWS Cloud Consulting team can provide you a strong AWS Cloud Consulting that includes performance testing, backup recovery, reporting and more. Mignet's AWS Cloud consulting team can ensure that every cloud resource you own is being used secretly, effectively and you can leverage managed cloud computing services, such as AWS Lambda, Amazon CloudFront Delivery, AWS WAF Delivery etc.
1. Managed AWS Cloud Consulting Services
With our expertise in AWS Cloud Infrastructure, Mignet provides proactive monitoring, automation, and management services. We offer a complete range of AWS cloud consulting services including performance testing, backup recovery, reporting, and more.  
AWS Lambda, Amazon CloudFront Delivery, AWS WAF Delivery, and other managed cloud computing services will ensure that every cloud resource that you own is being utilized efficiently and securely. 
2. AWS Managed Cloud Service
AWS Managed Services (AMS) helps you adopt AWS at scale and operate more efficiently and securely. AWS is the world's largest cloud computing platform, offering over 220 fully featured services. Companies face a number of complex challenges when it comes to designing, deploying, and managing AWS architectures for applications. With AMS, you can raise the operational bar and reduce risk while remaining agile, allowing you to focus on innovation without compromising efficiency. Monitoring, incident detection and management, security, patching, backup, and cost optimization are some of the operational capabilities provided by AMS. 
3. Managed cloud service provider (MCSP)
An MCSP is a vendor who offers comprehensive AWS cloud consulting services. The managed AWS cloud consulting companies may be directly connected to the cloud resources you use or they may be a third-party operator. MCSPs typically offer subscriptions to a wide range of services. Managed cloud service providers can serve as a replacement for in-house cloud IT or as a supplement to in-house teams. Mignet is the complete solution for your AWS Cloud Consulting. 
4. What to look for when choosing A managed cloud service provider (MCSP)
Deciding which MCSP is right for you can be difficult. But Mignet is the right partner for AWS Cloud Consulting Services. We are committed to helping you leverage cloud solutions while we set up, manage, and protect your cloud environment so you can focus on your business. 
Below are a few considerations you should keep in mind when reviewing your MCSP options. 
Any provider you choose needs to be familiar both with the AWS cloud consulting services you intend to use and with business operations. This means understanding industry best practices, knowing how to integrate any critical tooling or applications you have, and being able to adapt or optimize your workflows for AWS cloud resources.
Security and compliance should be at the top of your list when it comes to evaluating AWS cloud consulting providers. These components are among the most challenging to manage for organizations. By selecting the right AWS Cloud consulting service, you can ensure significantly improved results over what you might be able to achieve on your own. 
Relying on an MCSP to manage your AWS Cloud consulting resources requires a high level of trust. In general, these providers have full access to your data, and the functionality of your AWS cloud consulting services may be entirely dependent on them. Due to this, it is imperative that you choose a provider who is transparent about how their AWS Cloud Consulting services are handled. 
It is ideal for providers to also collaborate with your internal teams in order to better understand how the services are managed. It reduces your reliance on the provider and allows you to verify whether or not MCSPs deliver the AWS cloud consulting services they claim.
5. Our AWS Expertise and Experience
It has been our privilege to work on some of the most complex and value-creating AWS programs in the world. Our team of passionate individuals can help you overcome any challenges that arise. Mignet is an Advanced AWS Cloud Consulting Partner and MCSP.
Choosing Mignet as your AWS Cloud consulting partner allows your business to achieve scalability, faster time to market, improved productivity and security, cost reduction, flexibility, agility, better availability, as well as operational efficiency by getting the most out of AWS Cloud. Furthermore, it will facilitate the acceleration of the digital transformation of your enterprise. 
Download Our Profile
Get to know more about Mignet Technologies by downloading our profile.